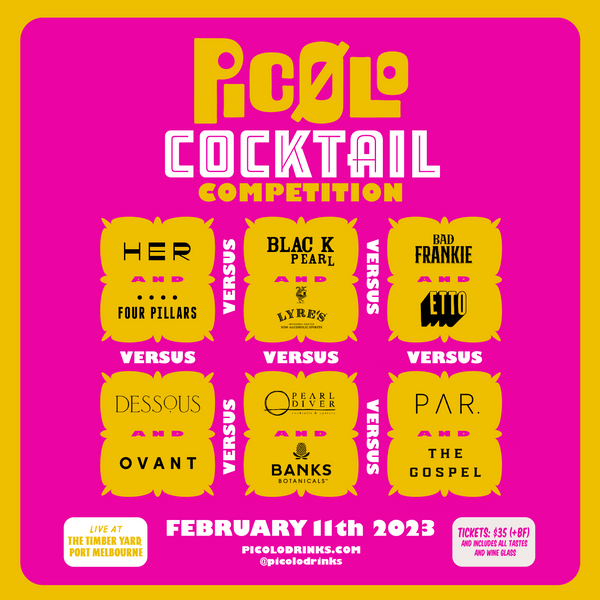 "LØ LIFE" Best Cocktail Competition.
We've teamed up Melbourne's best bars/bartenders with the some of the best Ø spirit brands in the market with the mission to create Australia's best nø & lo cocktail.⁠
And the best bit?⁠
You get to vote on the day in the People's Choice Award alongside our professional judges, headed by Diago's World Class Bartender of the year @nicktesar, drinks writer @mikebennie101 and all round food legend @myffyrigby from @swillmag. ⁠
You'll see them compete live and can drink the results throughout the day.⁠
Who do you think will take home the inaugural "PICOLO 'LØ LIFE' Cocktail of the Year" award'?⁠
SIX OF THE BEST BARS IN MELBOURNE!
And you can buy them on the day and vote for your favourite!
HER & FOUR PILLARS

TAKIN A BLOODY BREAK

Tom Younger has used the Four Pillars Bloody Bandwagon Non Alc Gin for this is a super fun summer drink.
He adds a delicious house made lemonade and then tops with a lemon foam.

He says to drink through the foam, get dirty!



WATCH TOM IN ACTION HERE!

BLACK PEARL & LYRES

VERANO

Lachy has teamed up with Lyres and highlights their "Agave Reserva".

To that he adds fresh pineapple and lime juice to a splash of honey syrup and a dash of El Yucateco Habanero hot sauce.
He then whips it with crushed ice, tops with Fever Tree Mediterranean tonic, tops with cubed ice and garnishes with fresh cut lime and rosemary tips.
Yes. Please.



@blackpearlfitzroy

BAD FRANKIE & ETTO

ANGRY NECTAR OF THE GODS
Shimmy was stoked to work with ETTO drinks for her amazing drink.

She starts with a good splash of their aperitivo style, then builds the cocktail in the glass with her special nectarine reduction, a splash of soda and topped with fresh pepper berry for a bit of fire!




@badfrankiebar
DESSOUS & OVANT

BLACK FOREST DISCOTECA
Isabel Toh from Dessous has partnered with OVANT to create this damn delightful drink.

Using the Ovant Royal, she adds her own marsala reduction (zero alc), house soda and tops with a marachino cherry.
So. Good.

WATCH HER MAKE IT HER

PEARL DIVER & BANKS BOTANICALS

BANKS TOWN SWIZZLE

Alex Boon from Pearl Diver partnered with Banks Botanical for this super fresh drink of pure delight.

To the Banks he adds a honeydew, green apple and tarragon cordial then lime, a pineapple falernum, fresh basil and crushed ice.
Summer, right!


PAR & THE GOSPEL

THREE
Tim Pope was inspired by the cocktail Manhattan and Sazerac and named Three because of the unique three day process that it takes to create this drink at PARGOSPEL

They showcase THE GOSPEL with anise myrtle, fennel, wormwood, special tea and fresh cherries all steeded for three days. Super complex.
DON'T FORGET TO VOTE ON THE DAY!
Byu simply doing so, you go into the draw to win products from every producer on show.
EPIC!

just follow the QR code at the bar to cast your vote.